Markets like the below are everywhere, and they range from a few stalls to warehouses to filling entire sections of a city. They're visited by locals and tourists alike. The ubiquity of markets is one way you know the economy here is very different from at home.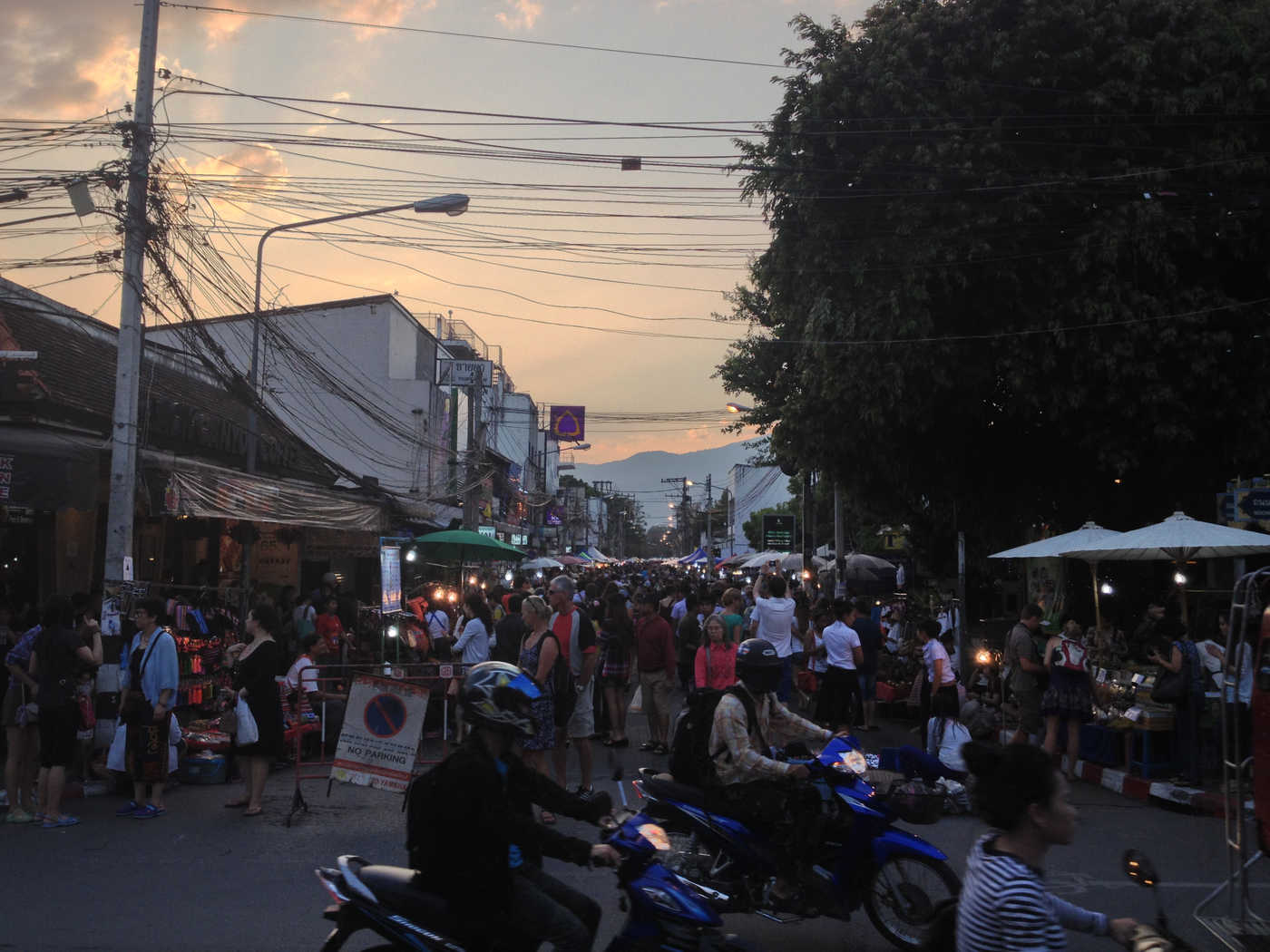 In the Chiang Mai market, occasionally the loudspeakers will play the Thai national anthem. Then everyone stops and stands motionless for the duration of the music, like some weird science fiction movie.
Goods range from used clothes, new clothes, art, the usual touristy stuff, street food, and so on. A lot of places sell the same rotation of counterfeit clothing and T-shirts, but my favorite market find was this baffling T-Shirt, which I've never seen before or since:
There are also markets of a more modern variety…
…and markets of a less savory variety. These 'special entertainment zones' have a later curfew and are cordoned off by police.
Ladyboys hang out outside (they're generally not allowed in bars) and solicit passers-by.
There are wats everywhere, particularly in Chiang Mai, the old capital of the ancient Lanna kingdom. In the old city, you can't walk a block without encountering something like the below. Wats every corner, every block, every street. They're all kept in good condition and you can freely walk in and out, though you must take off your shoes first.
Chiang Mai is also known for its adventure tourism.
The south of Thailand is known for its beauty. Everywhere you go, you're in paradise. Some things are famous–Phuket, Ko Phi Phi (from the film The Beach), the full moon parties of Haad Rin. Other places are less famous but just as beautiful.
It's not all beaches–the jungle has its own virtues.
The cliffs of Krabi are known for their climbing.
A Big Buddha overlooks the north point of the island of Ko Samui. The nearby beach is known as Big Buddha Beach. Easy to remember.
This is a low-key beach, with mostly Thai-owned (and not infrequently Thai-patronized) resorts and businesses. A welcome change from the party resorts that grow like a fungus over South Thailand. The time there went by too quickly.
Lastly, below is a mummy wearing sunglasses. They say he died in this exact position, while meditating, whereupon his body miraculously auto-mummified. Except for his eyes, which rotted away, so he wears sunglasses.
There is something about this picture that sums up the country–this revered religious figure, adorned with sunglasses, surrounded by tourist gawkers (not pictured). The sacred and the profane.
One does not often feel like you're touching the 'real Thailand', but rather one feels in an alternate reality, engineered by enterprising Thais and reserved for white people, which runs alongside Thai society and sort of resembles the real Thailand but is always apart from it and always trying to get your money. The south is most like this, the north least; but the feeling is everywhere to some extent.
As a traveler you are a weird combination of high-status foreigner, low-status other, and neutral-status ATM, and you share race/nationality/skin color with a constant money-dispensing flow of backpackers, bogans, bros, adventure tourists, sex tourists, retirees, and resorters. There are few places on earth closer to paradise, yet it was a major relief to get away from that constant feeling of travel as business transaction.
I think the only way to know the real Thailand is to be born Thai. As for the rest of us: Fremd bin ich eingezogen, fremd zieh ich wieder aus…